Headline is a new digital publication that takes place entirely on the blockchain. Cointelegraph reached out to their writer, Nikki Farb, for her thoughts on what was happening in this space even before it became mainstream.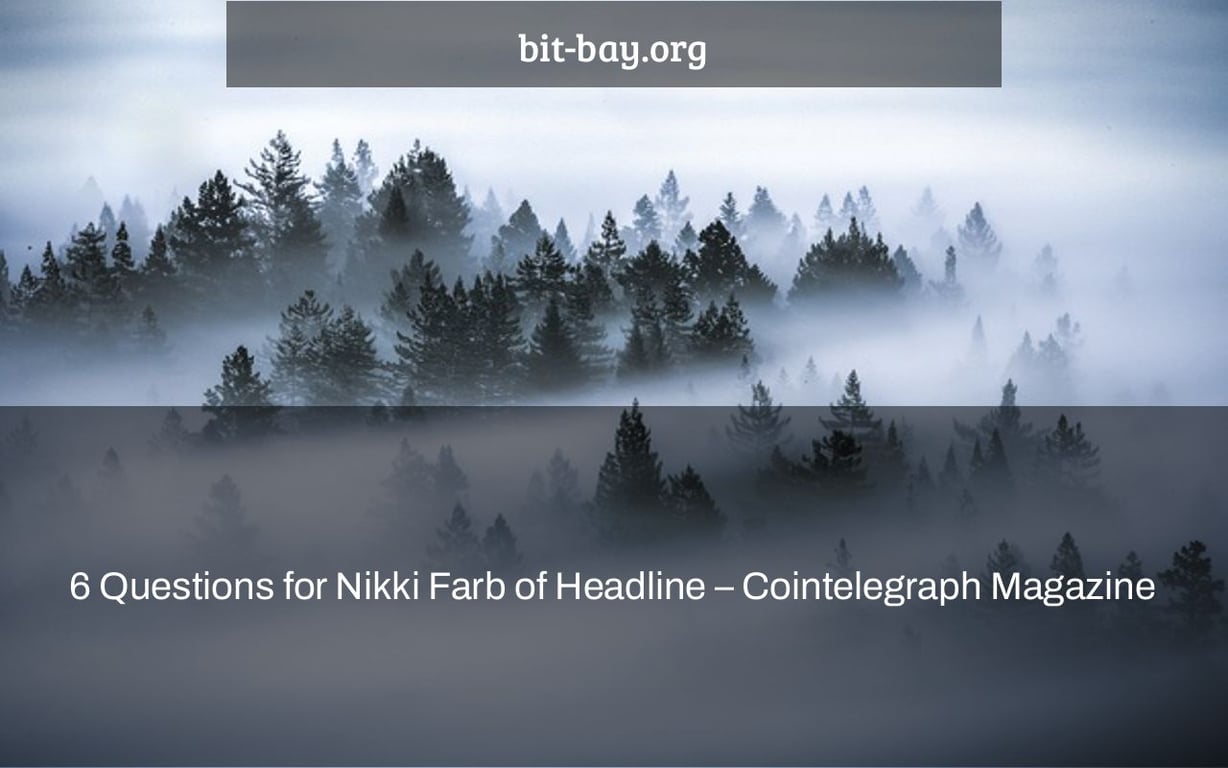 We asked blockchain and cryptocurrency entrepreneurs for their perspectives on the business… and toss in a few zingers here and there to keep them guessing!
---
Nikki Farb — an active investor and counselor to technology startups who is presently a venture partner at Headline, a venture capital company — is the subject of our 6 Questions this week.
Consumer technology (with a particular fondness for markets) and Web3 are two areas in which I invest. I've put money into companies including Consensys (MetaMask), AfterParty, Fractal, Aloft, Wander, MarketerHire, SudShare, and a few more that I can't talk about just yet.
I co-founded Darby, a video shopping platform that connects artists and their fans, before investing. It had been a long and winding road. Darby has grown to 50,000 producers producing videos for a total of 5 million viewers. Working with the Darby team was one of the most rewarding experiences of my life. Grove Collective purchased our company.
Prior to Darby, I worked in the Investment Banking Group at Goldman Sachs. I gained a lot of knowledge. Especially because I had just graduated from college and was working as an English teacher.
---
1 — What has been the most difficult obstacle you've experienced thus far in our industry?
I can think of two problems to solve. The first is that it is a loud business. It's difficult to ask the tough questions, such as, "What is the basic basis for this industry's success?" What is a unique use of the technology? The most essential thing you can do as an investor is to find the signal through the noise, since it affects how you spend both your time and your money. I now have that answer; if you don't, you risk losing a lot of money.
The second blunder is uniting around a bad message. One of the easiest ways for a female investor to thrive in this industry is to shout that it's a boys' club. This kind of criticism flourishes on social media, which hosts a lot of crypto discussions. I'd say that and create my platform if I wanted to be self-serving, but I don't believe it and it's not the road I want to take. If you repeat the idea enough times, it will eventually become true, and we will be harmed by being excluded from one of the most significant technology advancements and the quickest path to equal economic results. It only damages outsiders, not insiders, if you fall into a negative message. As members of this business, we have a say in how this phenomena unfolds. Why did we pick the name "boy's club"?
2 — Do you believe in Bitcoin as a form of payment, a store of wealth, or both… or none at all?
As a store of value for Bitcoin. While there was a debate about what it would become four or five years ago, it has turned out to be a store of value, which I believe is the proper consequence. Other cryptocurrencies, like as Ether and Solana, might be used as payment.
3 — Do you believe governments will attempt to eliminate cryptocurrency?
What a tussle of a question! Yes, I believe, since crypto weakens governments' authority, and everyone who has power is prone to trying to recapture it — albeit not everyone will go down that route. As a result, I believe it is unavoidable that some countries will attempt to ban crypto. Who knows which administration will do it and how far they would go. That right there is a movie. Some, particularly those with volatile currencies, I believe, will embrace it totally and strive to make it work. But, for the time being, it's much too early to make any assumptions. What's amazing about crypto is that it has the capacity to decentralize power and give birth to faltering economies. Like any other technical advancement, it has both positive and bad aspects. It will all rely on how people utilize it, and that is why I chose to invest in the space in the first place.
4 — How did you spend your high school years?
I was perplexed, but I made it! I finished high school in three years because my mother struck a bargain with me that if I graduated early, I could work as an actor instead of going to school for my fourth year. In my freshman year, I was also expelled out of two schools for being misbehaving, so I ended up in night school, where I subsequently recognized I needed to modify my ways. I also negotiated a bargain with my mother that if I maintained a 4.0 GPA in my sophomore year, I wouldn't have to go to school on Mondays, which I accomplished.
I was a huge fan of rap and hiphop culture, as well as punk music (my roots are in Orange County). I was content with my social life and number of pals. My younger sister accompanied me everywhere. She's three years younger than myself and my co-conspirator.
In high school, I worked roughly 30 jobs since I could leave at any time if I didn't like it. Denny's is the only work I've ever had, and my favorite job was at Bloomingdale's as a perfume spray lady. My family was affluent when I was born, but they eventually lost everything. I still wanted to live the life I grew up with in high school, so I adopted a hustler attitude and made my way. I'm sure I crossed the line into illegal activity a few times.
5 — What is your favorite poetry or musical lyric, and why does it resonate with you?
I can think of two examples. The first is the adage that "boring people merely become bored." It's my life philosophy. Most individuals, I suppose, get to be captains of their own ships, so if you're bored, go repair it.
The second is any phrase from The Royal Tenenbaums – two of my personal faves are: "Did you say you were on mescaline?" and "Did you say you were on mescaline?" "I did, in fact. "I've had a difficult year, dad," and "I've had a difficult year."
It's a very sincere, modest, and inventive film. I've seen it a hundred times and it never ceases to amaze me. I am drawn to the search of uniqueness, creative risk – all of the characters take creative chances — and the development of identity.
6 — What is the most influential book in your life, and why?
Pride and Prejudice comes to mind. An original copy of the book was given to me by my grandma. One of the first books I read in high school was this one. I was a voracious reader as a child, and this is one of the most mature works I recall reading at that age. It was about the strength of femininity and the distinct features we possess, and how much power we have in the world, to me. Those characteristics are also distinct from those of males. It made me understand how different I was from my father or other males as a human being, and how powerful it might be. Every year, I used to read it. I really liked how they were all sisters and how they interacted.
A wish for the blockchain community's youthful and ambitious members:
If I tell everyone about my desire, it may not come true!